Market Update Jan. 2018
The Lee County Real Estate Market for 2017 was relatively flat compared to 2016. During both time periods, a "Buyers' Market" has existed where the Months Of Inventory for both Single Family homes and Condominiums has been ranging from 5 to 9 months.
Unit sales of Single family homes in Cape Coral were up by 1% and down by 5% in Fort Myers. Of note is the increasing number of new construction homes that are selling. Cape Coral new home sales represented 18% of the transactions and Fort Myers at 11%. The new homes are also relatively close in price of all homes sold in the market which is putting pressure on existing properties.
The Median pricing has continued to increase for Single family at 8% in Fort Myers and 7% in Cape Coral over last year.
Condo prices appear to have jumped by 13% in Cape Coral which is sort of an anomaly as there are far fewer sold than in Fort Myers. The Fort Myers market showed a flat change in Median pricing of Condominiums from 2016 to 2017.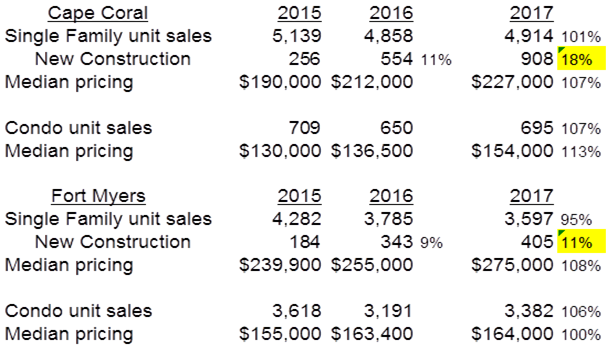 There are a few factors in play which might increase the number of new buyers to the Florida market. The new Federal Tax plan is going to make homestead properties in New York and Illinois less attractive if the deductibility of their taxes is decreased. Stock market increases are driving up 401K's and opening up more funds for a second home. Hospitals and clinics on the west coast are investing in size and personnel
If you or your friends are looking to buy or sell – give us a call. Lin and I are long term, experienced, full time real estate agents here in Lee County and would love the opportunity to assist you in your realty needs.
Best Regards
Jim and Lin Miller
Sellstate Realty
239-896-3121